Human Services
Oregon's $300 Million Exchange to be Transferred to Feds
Earlier today, Oregon became the first state-run health exchange to adopt the federal HealthCare.gov exchange portal. After receiving more than $300 million in federal grants, the state struggled to sign up private insurance enrollees through their own online portal, Cover Oregon. Due to these difficulties and the projected costs of fixing the exchange, a technological advisory committee recommended to Oregon's exchange board on Thursday that the state transition to using the federal exchange, rather than attempt to fix its existing exchange. Today, state officials approved the advisory board's recommendation.
Examining the cost projections between the two options, state officials reported that it would be more expensive for Oregon to repair their current state exchange than adopt the federal system. To fix the current exchange, it would have cost an estimated $78 million. The switch to the federal system is estimated to only cost between $4 million to $6 million. Under the new system, the Cover Oregon website will still be in place, but consumers will be transferred to HealthCare.gov.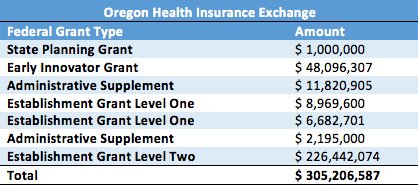 With lower cost projections for a federal system and the troubled history of the state's exchange, it is no wonder that Oregon officials voted for a transition to HealthCare.gov. Since the open enrollment period began in October, a dysfunctional exchange website forced Oregon to rely on paper applications to sign up individuals for private insurance—people now sign up through a hybrid paper and online application process.  These persistent struggles led Oregon to extend its enrollment period through the end of April, four weeks beyond the original federal deadline. Even with the extension, the state has only signed up about 64,000 people for private insurance.
The state is also facing investigations from the Government Accountability Office, which announced in March, they would examine Cover Oregon to determine if federal funds were mismanaged.  Congressman Greg Walden of Oregon requested the investigation, referring to the health exchange as, "the worst financial failure in information technology in state history." Former Health and Human Services Secretary Kathleen Sebelius also called for an inspector general's probe into the failed exchange.
While Oregon is the first state to transition to the federal portal, they are not the first state to take a drastic step in an attempt to fix a malfunctioning exchange. Earlier this month, Maryland voted to replace the software used to operate their troubled system with that of the successful Connecticut exchange. To date, 14 states and the District of Columbia operate their own exchanges with various degrees of success. Now that precedent has been set, states with struggling exchanges may opt for an Oregon-style transition to the federal portal.
---