Post-Election Analysis by the American Legislative Exchange Council
Update: to see a full 50-state legislative breakdown, see our full map.
The midterm elections offered a clear mandate for limited government, free market advocates across the country. The anti-Washington, D.C., pro-federalism shift was seen both in federal and state elections. While tradition dictates the president's party lost seats in all but four midterm cycles dating back to the Civil War, there was much more at play in this election than in past midterms.
Across the board, voters rejected wasteful and inefficient government spending. They supported limitations on government overreach and over-regulation. And, they focused on kitchen table issues like state budgets; income, property and business taxes; education freedom; health care reform; and, government overreach.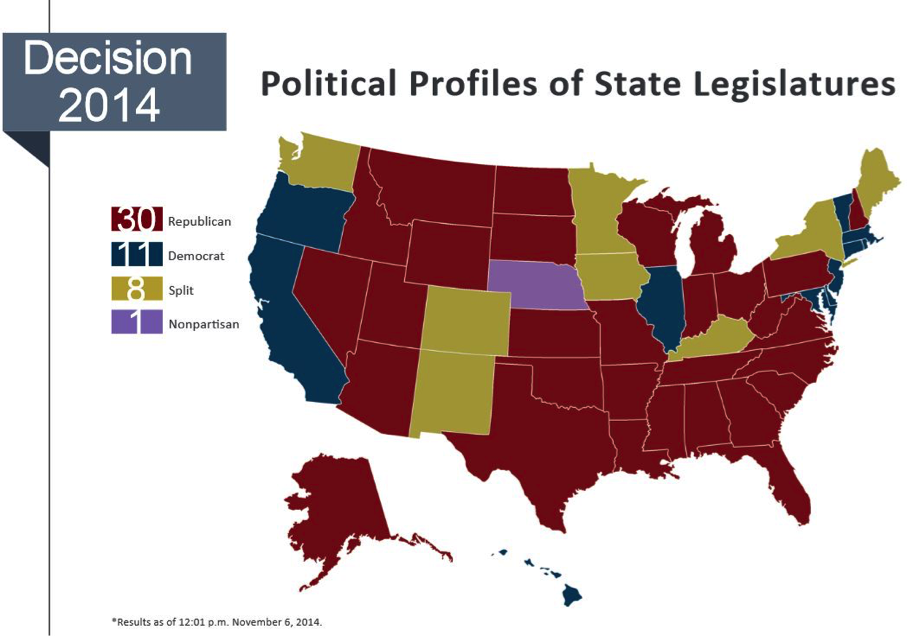 Decision 2014 by the Numbers:
6,057 state legislative seats in play (two-thirds of all state lawmakers)
Republican-Controlled Legislatures increased from 26 to 30
Democrat-Controlled Legislatures decreased from 18 to 11
Split-Controlled Legislatures increased from five to eight
One state senator switched party affiliation from Democrat to Republican, thereby flipping the West Virginia Senate – and in turn, the control of both chambers – from Democrat to Republican
Decision 2014 Issues at the Ballot Box:
Education
Energy
Health Care
Tax Reform
Unions
Wasteful Spending
Education
Education freedom played a role in two gubernatorial races: both former Florida Governor Charlie Crist and Georgia gubernatorial candidate and grandson of President Jimmy Carter, Jason Carter, lost the minority vote and ultimately the election in their respective races due in large part to their opposition to charter schools.
Nevada legislative elections were no doubt impacted by the overwhelming number of people who showed up to vote against a state ballot measure to implement a 2 percent margin tax on businesses to raise money for public schools. State Question 3, defeated with nearly 79 percent of the vote, received more than one-and-a-half times the votes of the other two ballot measures.
Energy
Kentucky Democrats held on to the state House despite broad, statewide support for U.S. Senator Mitch McConnell, because they openly campaigned to fight the federal overregulation of Environmental Protection Agency's (EPA) war on coal.
EPA overregulation of coal also dominated campaigns in West Virginia where, despite state voter registration that favors Democrats over Republicans two-to-one, the state House flipped to Republican control for the first time in more than 80 years. On Election Night, the state Senate was equally divided 17-17, but later in the week, a state Senator changed party affiliation from Democrat to Republican, flipping that chamber's control, as well.
Healthcare
Seattle, Washington holds the undesirable title of number one in the country for increased healthcare premiums – up 64 percent. Those increases certainly contributed to numerous losses by Democrat lawmakers in both chambers of this left-leaning state.
California Democrats lost their supermajority in the state Senate, due in large part to Los Angeles experiencing the third largest healthcare premium increases, up 27 percent.
The Colorado state Senate flipped party control and the House became nearly evenly divided after 500,000 Coloradans lost their private health coverage and Denver experienced the country's fourth highest health insurance rates with a 26 percent increase.
Las Vegas came in at fifth highest for health insurance rate hikes, with 22 percent increases, which prompted Senator Harry Reid's home state of Nevada to switch power in both state legislative chambers.
New York City had the country's sixth highest increase in health care premiums, up 18 percent; this rate increase helped Republicans take control of the state Senate.
Minnesota's clumsy health exchange was implemented using $150 million in taxpayer money, without a single Republican vote.
Senator Mark Begich (AK) became the 26th U.S. Senator who voted for the Affordable Care Act who has since retired from or lost their Senate seat.
Tax Reform
Maryland is another state that favors Democrats in voter registration by a two-to-one margin over Republicans. Despite the voter advantage for Democrats, Marylanders elected only the second Republican governor in more than four decades in a clear mandate to stop the excessive taxation by the one party rule of the legislature and current governor. After more than 40 new taxes under current leadership, including a tax on rain water, voters also decided to take away the state Senate's Democrat supermajority.
Minnesota Republicans took control of the state House largely by campaigning on the $2.1 billion in new taxes passed by the Democrats over their opposition.
New York Republicans took control of the state Senate by campaigning on ending an energy tax on utilities, a metropolitan commuter transportation tax, permanently reducing income taxes on the middle class and small business owners and requiring a legislative two-thirds majority to raise taxes.
While the New York state Senate flipped from Democrat to Republican, those New York Democrats who were re-elected campaigned on cutting taxes for the middle class, creating "Empire Zones" with their Start-Up NY program for new companies to establish themselves in New York State tax-free and having passed balanced budgets during the last few years.
Washington State Democrats took a hit to their majorities in both chambers in part due to Washington Republican challengers campaigning on reducing property taxes, preventing implementation of an income tax, zero-based budgeting and requiring supermajorities for government spending increases.
Unions
State legislative races were likely impacted by turnout for a Colorado ballot measure, Proposition 104, that would require open school board meetings for collective bargaining negotiations. The measure passed, 70 to 30 percent, with more than 1.3 million votes.
Minnesota Democrats experienced a national backlash when they tried to force unionization of in-home private childcare providers.
Wasteful Spending
Minnesota Democrats ran on the promise to spend more money on education, including expanding early childhood education, transportation and infrastructure. Taxpayers were also angry about an expensive new Senate building constructed on the public dime.
Conclusion
Elections continue to have consequences: following the West Virginia state House flipping leadership to a more free market focus, a state Senator switched his party affiliation, tilting the state Senate to a free market majority, as well. Colorado, West Virginia, New Hampshire and New Mexico are expected to revisit previous conversations regarding Right-to-Work policies in their respective states.
When all is said and done, the clear winners from the 2014 Elections are the American people and the principles on which the country was founded. In campaign after campaign, from city council to the U.S. Senate, the overwhelming majority of votes were cast for candidates who promised to advance limited government, free markets and federalism.
---