Human Services
State-based exchanges face scrutiny, questions of mismanagement
Officials from five states came under congressional scrutiny last week for various failures in creating state-based health insurance exchanges, despite each state accepting and spending hundreds of millions of dollars in federal establishment grants.
Hawaii, Maryland, Massachusetts, Minnesota, and Oregon each had top officials present for a House Committee on Oversight & Government Reform hearing on problem-filled state exchanges. Under the Affordable Care Act, states were given the option to run their own exchange or default to the federal exchange. Hawaii's exchange director, Tom Matsuda, testified that his state received $205 million in federal grants to build its own exchange, yet had enrolled only 7,600 people. Maryland, after having received $171 million, fired its exchange contractor after a failed rollout, and has plans to spend $40 to $50 million to hire another. Massachusetts, despite being the inspiration for the Affordable Care Act, had to resort to paper applications after receiving $170 million. Minnesota reportedly paid bonuses to those managing its exchange after its botched launch. And Oregon's exchange is still unable to fully process an online application despite being awarded over $300 million in federal grants.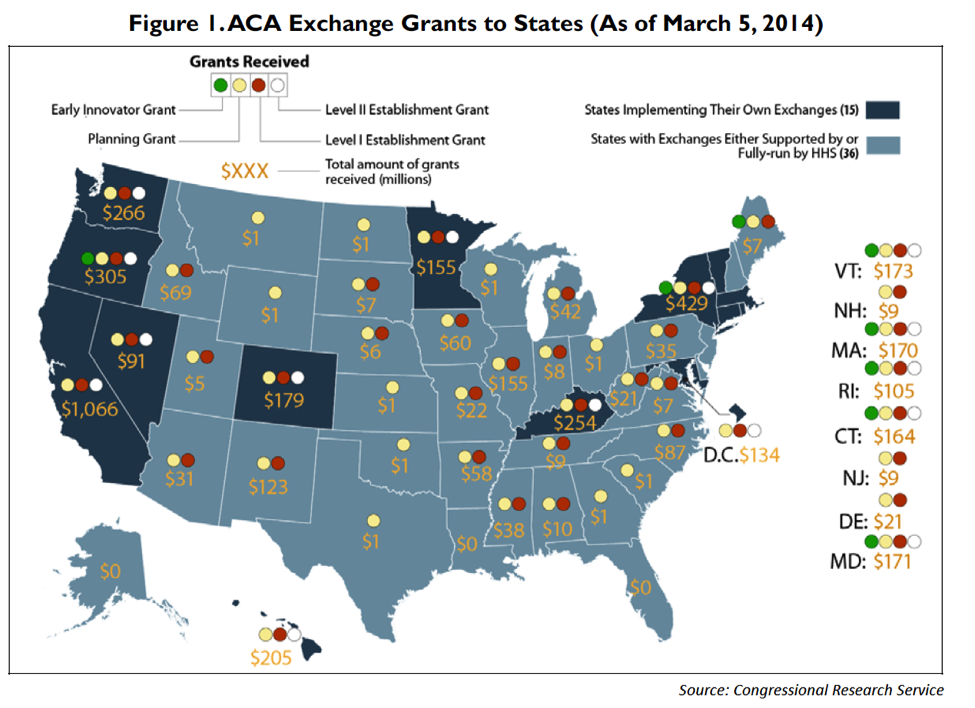 Testimony at the hearing pointed to technological issues as the cause for most of the difficulties. Six months after enrollment officially began, Oregon's website is still "only partially functioning," Oregon official Greg Van Pelt told the committee. "[The] launch was plagued by software errors and technical glitches," explained Scott Leitz, who serves as the interim chief executive of the Minnesota exchange.
These technological issues harmed the ability of residents to enroll through exchanges, leading to enrollment numbers significantly lower than expected, according to state officials.
Others, however, suggest that more than technology is to blame. The HHS Office of the Inspector General launched a federal investigation of Maryland's exchange last month at the request of Maryland Rep. Andy Harris, who charged that state officials "ignored early warning signs and chose to waste and abuse federal taxpayer money."  Similarly, the federal Government Accountability Office accepted a request from the House Energy and Commerce Committee to investigate Oregon's exchange website.
Meanwhile, other state-based exchanges have fared better. Connecticut's exchange is widely cited as an example of success, as are exchanges in California, Kentucky, and Washington. Arkansas appears poised to try to duplicate these successes and establish an exchange of its own—the state recently hired the former director of Utah's health insurance exchange, Cheryl Smith, to direct future exchange planning. Arkansas has limited time, however, at least if it wants to accept federal grant money to do so. No grants can be awarded after January 1, 2015.
Also on the horizon are state-based exchanges in Idaho and New Mexico. As the last two of the 14 states to get federal approval for state-based exchanges (Utah will only operate a small business exchange), neither had adequate time to get up and running for the current plan year. However, both are slated to take over responsibilities by next year.
---