Criminal Justice
Update: 2013 Criminal Justice Reforms on Course for Success in South Dakota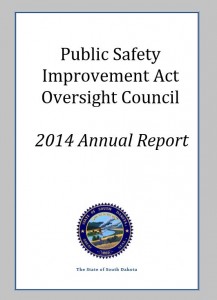 Earlier this week, the South Dakota Public Safety Improvement Act Oversight Council released its first annual report on the implementation of the state's Public Safety Improvement Act of 2013. South Dakota, like many states across the nation, had experienced an immense growth in prison spending with no commensurate public safety return. In response, state leaders formed a bipartisan, inter-agency working group that studied the state's criminal justice system and developed a set of recommendations that provided the basis for the 2013 legislation.
Although it is too early to declare the full impact of the legislation a success, this week's report outlined some very promising signs that the policy is working to keep South Dakotans safe, get the most public safety out of their tax dollars, and hold offenders accountable while getting them the resources they need to successfully reintegrate into society.
In FY 2014, 60 percent of parolees completed their terms without being revoked for violating the conditions of their supervision, up from 45 percent the year before.
The percentage of probationers who had their probation revoked, and were sent to the penitentiary or local jail remained at an all-time low of only 4.4 percent.
In just six months, 557 probationers have been discharged early through earned discharge credits.
By concentrating resources on higher-risk offenders through earned discharge, South Dakota allows probation and parole officers to focus on the individuals most likely to reoffend or to be a danger to the community. In addition, allowing probation and parole officers to employ swift, certain, and proportionate sanctions for violations of supervision will deter criminal behavior and reduce the rate at which offenders return to prison. Combined, these responses can have an enormous effect on decreasing the rate of return to jail or prison – saving dollars and reducing crime.
---