Regulatory Reform
EPA's MATS Rule Headed to Supreme Court
Today the U.S. Supreme Court agreed to hear arguments challenging the U.S. Environmental Protection Agency's (EPA) rule limiting mercury and other pollutants (e.g., arsenic and metals) emitted from coal-fired power plants. EPA's Mercury and Air Toxics Standards (MATS) were finalized in 2012 and apply to 1,400 of the country's largest coal units. If unchanged, the utility industry estimates that the rule will impose more than $9 billion in annual compliance costs and force utilities to prematurely retire significant amounts of installed baseload capacity.
In agreeing to hear the case, the Court consolidated three cases (Michigan v. EPA, Utility Air Regulatory Group v. EPA, and National Mining Association v. EPA) that claim EPA failed to consider the compliance costs of the regulation early enough in the regulatory process. EPA claims that the benefits of reducing mercury emissions (which, according to the agency, includes 11,000 averted annual deaths) far outweigh any costs.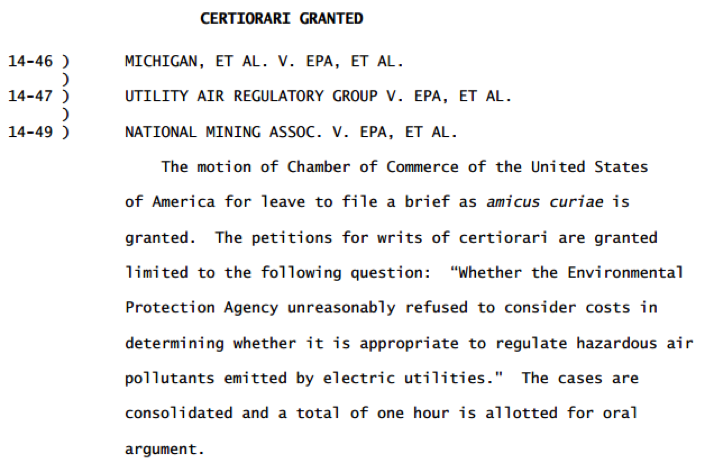 The challenge comes after the U.S. Court of Appeals for the D.C. Circuit upheld the MATS rule this past April. In a split decision, the three judge panel agreed that EPA could ignore costs in determining whether to regulate the utility sector. Oral arguments will likely take place in March with a decision due by the end of June.
In 2012, ALEC adopted the Resolution Supporting a Reasonable Compliance Timeline and Economy-wide Impact Study of EPA's Mercury and Air Toxics Rule which calls upon EPA to do precisely what the petitioners claim EPA failed to do. When promulgating all regulations, EPA should consider the negative impacts on jobs, state economies, electricity prices, domestic manufacturing, international competitiveness and more.
---