State Legislator of the Month, May 2023: Florida Speaker Paul Renner
We are pleased to announce that the State Legislator of the Month award goes to Speaker of the Florida House of Representatives Paul Renner, an outstanding legislator who has demonstrated exceptional leadership and made significant contributions to Florida's legislation. As Speaker of the House, he has prioritized fiscal responsibility, improved the state's education system, and promoted economic growth and job opportunities, garnering national attention for his efforts.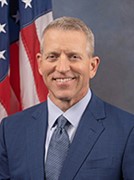 The State Legislator of the Month award highlights substantive state policy success and acknowledges those who care about the principles at ALEC's core – limited government, federalism, and individual liberty.
Most recently, Speaker Renner was an advocate for HB 1, Education, filed by Representative Kaylee Tuck and sponsored in the Senate by Senator Cory Simon, which became a historic piece of legislation that was passed with a large majority on March 23, 2023, and shortly after signed into law by the governor. This bill also had the full support of ALEC National Chairman, Representative Danny Perez.
The HB 1 package creates an Education Savings Account program that will be universally available to every student and family across the state. The program, called the Family Empowerment Scholarship Program, will allow Florida students to customize their education and attend the school that is the best fit for them. Families can use the funds for a wide variety of education-related expenses like private-school tuition, standardized testing fees, tutoring services, supplies, and more. Renner explained in an interview that the aim is to personalize education and help each child achieve their full potential.
Speaker Renner represents House District 19, which includes Flagler County and parts of St. Johns and Volusia Counties. Before his election to the House in 2015, Renner served in the U.S. Navy and practiced law. He earned a B.A. in history from Davidson College and a J.D. from the University of Florida.
Renner has successfully garnered the support of the majority of Florida's legislature to improve the state's school system. Renner has made sure that all students have access to the resources they need to excel and reach their educational objectives. His contributions have had a lasting impact and will continue to inspire us as we work towards a better future for future generations.
Congratulations, Speaker Renner, on being the State Legislator of the Month for May!
---