Press Release
South Dakota Gov. Kristi Neom Ranks #1 in Laffer-ALEC Annual Governor Ranking
Governors scorecard ensures every American can see how their governor has led without bias or agenda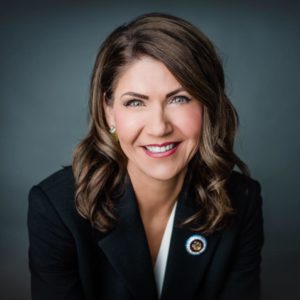 Arlington, Va. – (March 22, 2022) The American Legislative Exchange Council (ALEC) today released its annual governors ranking, the 2021 Laffer-ALEC Report on Economic Freedom; Grading America's 50 Governors. The report ranks America's 50 governors on their current economic performance and their fiscal and executive policies over their term in office.
Gov. Kristi Noem of South Dakota ranked #1 among her peers thanks to her executive policy decisions, fiscal restraint and free market policies.
"State executives implement policy and respond to crisis in dramatically different ways," said Reagan Economist Dr. Arthur B. Laffer. "At such a critical decision point, voters need fact-based, nonpartisan data to judge their leaders and hold them accountable. The objective data voters need is all about economics, and it's all found in this ranking."
Each governor is awarded an overall rank based on three key performance indicators (KPIs): Economic Performance, Fiscal Policy and Executive Policy, based on current performance and change over their terms. Each of these KPIs is then combined with equal weight to calculate an overall rank for each governor.  Governors and taxpayers can use these criteria to determine state policy areas that need improvement particularly when it concerns the difference between government control versus personal control and dependency. Examples of such policy decisions are availability of school choice options and state welfare spending. Other measures of economic performance are net migration to a state, education quality, gross state product growth, unemployment rates, debt, corporate and personal income tax rates, spending per capita and federal unemployment benefits.
This ranking shows that well-managed states and budgets have significantly helped states like South Dakota (#1), Utah (#2) and Florida (#3).
"States have long been the incubators of policy innovation," said ALEC CEO Lisa B. Nelson. "It is why citizens, who are becoming increasingly engaged in policy debates at all levels of government, need information on which policy decisions are working for them and their families. It is why objective and nonpartisan data is critical to compare state leaders' performances, built and backed up by empirical criteria. The Laffer-ALEC governors scorecard ensures every American can see how their governor has led across the board without bias or agenda," Nelson concluded.
"Gov. Noem has done an excellent job keeping South Dakota competitive and in exceptional economic shape," noted Nelson. "Noem's policy decisions have allowed South Dakota families and workers to be better preapred to deal with the pandemic than nearly any other state."
The scorecard is authored by Reagan Economist Dr. Arthur B. Laffer, lead researcher Donna Arduin, economic policy expert Stephen Moore and ALEC Chief Economist Jonathan Williams. The authors intend this report to serve as a guide for consumers as they make decisions about their state's future.
 The top ten and bottom ten governors for 2021
Top Ten
1. Kristi Noem, S.D.
2. Stuart Cox, Utah
3. Ron DeSantis, Fla.
4. Jared Polis, Colo.
5. Brad Little, Idaho
6. Bill Lee, Tenn.
7. Chris Sununu, N.H.
8. Doug Ducey, Ariz.
9. Brian Kemp, Ga.
10. Greg Abbott, Texas
Bottom Ten
41. Gretchen Whitmer, Mich.
42. Ned Lamont, Conn.
43. Tom Wolf, Pa.
44. David Ige, Hawaii
45. Phil Murphy, N.J.
46. Andrew Cuomo, N.Y.
47. J.B. Pritzker, Ill.
48. Gavin Newsome, Calif.
49. Daniel McKee, R.I.
50. Michelle Lujan Grisham, N.M.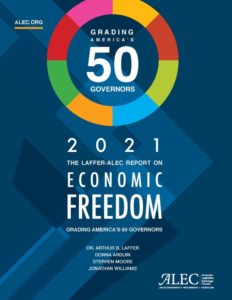 ###
The American Legislative Exchange Council is the largest nonpartisan, voluntary membership organization of state legislators in the United States. The Council is governed by state legislators who comprise the Board of Directors and is advised by the Private Enterprise Advisory Council, a group of private, foundation and think tank members. For more information about the American Legislative Exchange Council, please visit: www.alec.org
---