Workforce Development
The $5.1 Trillion Elephant in the Room
State Budget Solutions, a non-partisan public policy organization, has released their 4th annual report on state debt. The findings are not pleasant. The data shows that the total combined state debt is equal to $5.1 trillion. For perspective, this figure is almost five times as much as the bipartisan appropriations bill ($1.1 trillion) now working its way through Congress. This stunning amount of debt is a clear threat to state budgets and should deeply concern taxpayers who will eventually find themselves on the hook to repay this debt, either through decreased government services and/or tax increases.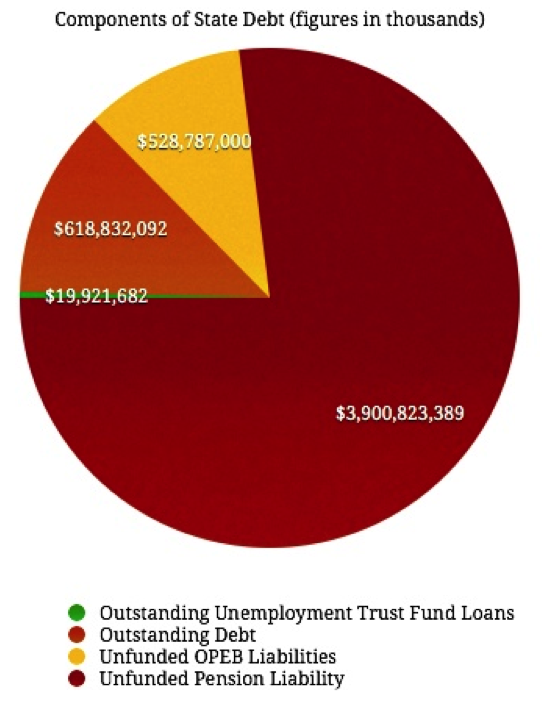 The drivers of this massive amount of debt are unfunded pension liabilities, unfunded other post-employment benefits (OPEB), outstanding debts, and outstanding unemployment trust fund loans. While all of these are contributors to state debt, unfunded pension liabilities account for more than three quarters of the total debt. The total combined unfunded pension liabilities from across the states stands at a staggering $3.9 trillion. The chart below illustrates the extent of the unfunded pension liability problem.
ALEC's recent report, Keeping the Promise: State Solutions for Government Pension Reform, discusses how the current defined-benefit plan structure for public pension is unsustainable and provides reform ideas and examples on how states can work to fix the unfunded pension liability problem.
The State Budget Solutions report also breaks down the data by each state and also includes various measures for the top five most and least indebted states. These measures calculate the debt on a per-capita basis, debt as a percentage of state gross state product, and as a percentage of FY2012 state spending. When looking at total debt, California is far above other states with almost $778 billion in total debt; although, that ranking improves when California's debt is calculated on a per-capita basis or as a percentage of gross state product.
Some of the other highlights from the report include the following:
–       Alaska has the highest debt per-capita at $40,714
–       Hawaii has the highest debt as a percentage of gross state product at 64 percent
–       Nevada has the highest debt as a percentage of FY2012 spending at 1,048 percent
Addressing states' unfunded pension liabilities in addition to reforming state budgets is key to paying down these enormous debts. ALEC's State Budget Reform Toolkit provides strategies and examples that states can use to responsibly reform their budget and work to pay off debt. To read the full State Budget Solutions report and find out more about how much debt your state has, click here.
---